Recycling Scrap Metal In Scottsdale, AZ
We Buy Scrap salvage near Scottsdale AZ, buys and recycles industrial scrap metal from consumers, industries and small businesses in the Scottsdale, Arizona area, offering three locations in Maricopa County to handle small and large loads. Consumers, small business owners, and industries and help the environment and enjoy financial benefits from recycling metals that would otherwise end up as waste. The company offers the highest prices, special programs and incentives, and a reputation for fairness. Encouraging recycling in the community brings many benefits to the local economy and the environment, and community service groups could sponsor fundraisers that leverage the economic benefits of recycling scrap metal.
Types Of Metal For Consumers To Recycle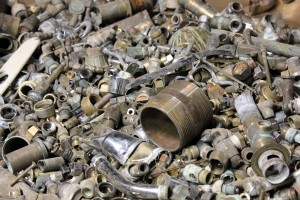 The most common kind of scrap metal that people recycle usually consists of aluminum cans, which often carry an extra recycling deposit value. Consumers can recycle all types of metals, including aluminum, copper, zinc, lead, stainless steel, iron, and nickel.  Ferrous metals include alloys made with iron, which industries aggressively recycle. Nonferrous metals include aluminum, copper, nickel, lead, tin and zinc. Cars, appliances, structural steel, and reinforcement steel serve as sources for ferrous scrap metal. Appliances, cans, wiring, electronics, radiators, and packing materials could serve as sources of various recyclable materials. Construction and remodeling projects usually generate a large amount of metal that brings consumers valuable financial benefits by recycling.
Metal Salvage Process
The metal salvage process can recover scrap metal from many industrial and commercial processes. Soft demolition dismantles buildings to maximize recovery of materials. Some materials can be recycled without being returned to factories, such as window frames, railings, artistic metal, and other materials. People can refurbish some materials such as plumbing fixtures, ceiling tiles, floor tiles, wood cabinets, and other artifacts. The salvage process during demolition separates materials into trash, removable materials, and recyclable materials. Recyclable metals get returned to factories, according to type, melted into slag, and impurities get removed. The demand for scrap metal has made the industry one of the United States' biggest exports, which it ships to over 100 countries. Recovery processes use far less energy and fewer natural resources than mining and converting ores into virgin metal.
The world's resources have finite limits, and recycling becomes more important as the demand for consumables increases. Recycled aluminum uses 95 percent less energy than producing virgin metal, and recycling copper uses 90 percent less energy. The reuse of steel uses 56 percent less energy than processing the 1,400 pounds of coal, 2,500 pounds of ore, and more than 100 pounds of limestone needed to produce one ton of steel. Recycling helps keep metals out of landfills, which have negative effects on the environment and water table. Recycling helps reduce litter, removes dangerous metals from backyards and streets, and keeps the price of consumer goods down by using fewer resources.
Providing Metal Waste Containers
We Buy Scrap provides on-site metal waste containers for construction and remodeling projects serving Scottsdale and surrounding areas. These convenient bins make it easy for homeowners and businesses to recycle scrap metal safely. People can use these bins for special projects, fund raising efforts, construction projects, or permanent recycling duties. Consumers and business owners can recycle many kinds of scrap metal, but they should not include any chemical products, herbicides, radioactive materials, paints, solvents, and hazardous wastes. Medical wastes, televisions, some electronics, computers, monitors, and fluorescent tubes contain hazardous materials. New construction projects generate lots of scrap metal from packaging and cutting raw materials to size. Workers can save larger scraps for other projects, and some unused materials can be returned to manufacturers.
Consumers and business owners in the Scottsdale area can begin recycling efforts by focusing on scrap metal, which offers real financial benefits. Community service groups, environmental organizations, plumbers and contractors, and even small retail operations can benefit from recycling materials. Developing recycling awareness helps people find opportunities to salvage materials from home or building demolitions, renovation sites, remodeling projects, neighborhood recycling efforts, and group undertakings. Materials for recycling include steel supports, lumber, pavement, concrete, roofing materials, wallboard, aluminum and steel cans, appliances, and packing materials.
Contact We Buy Scrap near Scottsdale AZ today and find out how any group or family could help save energy, reduce waste, and receive top prices for recycling efforts.