Sell Scrap Metal in Peoria AZ
We Buy Scrap is a scrap metal yard near Peoria, AZ. We buy all kinds of recyclable metals in all shapes and sizes. No matter what kind of scraps you bring, they buy it. They pay the best possible price for small household scrap metal as well as commercial and industrial leftovers. Over the years, this company has earned a reputation for providing a highly professional, fair and honest service. Consumers and business owners who like to get money for their obsolete metal waste and are also environment conscious support metal recycling. They take them to the scrap metal yards in their area. Online, you can find the directions to the yard in your area.
Most Common Scrap Metals For Recycling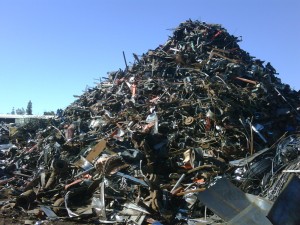 Scrap metal is used in recycling mills to manufacture brand new high quality products that are durable. Recycling is cost effective and We Buy Scrap buys what you bring and sends it to recycling units. While iron and steel are the most common scrap metals, brass, insulated copper wire, copper tube, and aluminum scrap are also recycled. The companies buy obsolete industrial, commercial and consumer scrap metal. These are processed into different grades to manufacture specific products. There are two types of scrap metals, ferrous and non-ferrous. Ferrous metals have iron and are used in household appliances, food cans, cars and construction beams. Non-ferrous metals are zinc, nickel, titanium, copper, chromium, copper and other precious metals.
Small businesses and firms sell a wide and varied range of such scraps that they get over a period of time as a result of business activities. Scrap metal includes obsolete household appliances, soft drink scans, residential and commercial building materials, automobiles, airplane parts and pharmaceutical equipment. Mechanics, contractors, plumbers and electricians get a fair price when they sell the scrap metal they clear from homes and buildings they service.
The scraps are not wasted. They are recycled in recycling units. Recycling fuels economic growth. It reduces manufacturing costs and subsequently lowers the prices of products. Recycling plays a vital role in energy conservation as well. As there is no requirement for new materials, the metals under earth are kept intact. It reduces the harmful gas emissions, and the energy that is saved due to recycling is helping millions of homes have power throughout the year.
Making Your Metal Recycling Convenient
Our roll off containers make it possible to purchase and process large scale scrap recovered during high volume manufacturing, demolition and renovation. This service enables the convenient removal of metal waste from your site. You will only have to fill the roll off containers, everything else is taken care of and you are paid a very satisfactory sum. This company provides a large number of yard bins either on a permanent or temporary basis for dumping your scrap. This service is licensed, bonded and insured and the drivers are trained to deliver a service that complies with all safety standards. The mobile car crushing service helps in cleaning up large metal scrap salvage. The charges for these services differ from area to area. They do not accept any kind of harmful or hazardous materials. All efforts are taken to comply with the environmental policies and strict guidelines. The latest technology is used to remove scrap in the safest and most efficient way possible when collecting it for recycling.
Their website gives information about all the types of scrap metal they buy. The detailed instructions will help bring about quick transactions. The metal waste for recycling must meet the state's safety standards and regulations. Our scrap metal company constantly monitors the market conditions to pay individuals a fair price for the scrap they buy.
Contact We Buy Scrap near Peoria, AZ and get a good amount for the scrap metal that is occupying space in your premises.