Recycling Scrap Metal In Chandler Arizona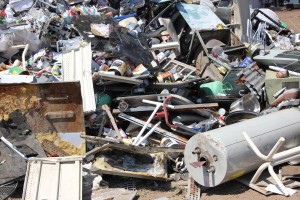 The United States has been a leader in industry for over two hundred years. As a result, our great nation is full of all kinds of scrap metal. At We Buy Scrap near Chandler, AZ, we have made it our mission to turn this resource into a profitable business that is helpful to our clients and environmentally friendly. Whether you have a broken washing machine that you want to get rid of or a warehouse full of scrap, we are always happy to help you find the perfect solution. We can help you turn the metal scrap that you can't use into cold hard cash. From there, we can turn around and sell it back to industry. By using our scrap, big producers don't have to rely on the expensive and environmentally damaging processes that are used to produce new metal. That means that everyone wins. To learn more about how we work, learn what we buy.
Types of Scrap Metal To Salvage
Our business is set up to handle just about any kind of scrap metal in any quantity. We accept both ferrous (iron and steel) and non-ferrous metals (everything else). From car parts to old window frames to corroded copper pipe to beverage cans, we can take it. Just about the only things that we can't accept are computer or TV monitors, aerosol cans, or anything that might be flammable or unstable. If you do not have a use for it, sell it to us. Not only will you make a little money, but you will be cleaning up your home or work area in a responsible way.
Our goal is to make it easy to recycle your scrap metal no matter how big or small your operation is. We are happy to take the occasional drop off, or we can get you set up for a more permanent recycling system. We often work with tradesmen like plumbers and electricians, buying their scrap and helping them to earn extra money. Likewise, we have ongoing relationships with industrial producers who sell us their cast-offs and punch-outs. If you are renovating or demolishing a home, bring us into the loop. Not only will we assist in organizing the clean up, but we can turn some of that trash into cash. If you live near Phoenix or Chandler, it has never been easier to recycle your scrap metal.
Protecting The Environment By Recycling Scrap
Another important consideration is that recycling scrap is the responsible thing to do environmentally. Although it is no good to you, scrap metal is prized by manufacturing and industry. Every ounce that they can recycle is an ounce that they don't have to produce through mining, smelting, and other environmentally dangerous processes. Moreover, recycling scrap means saving it from landfills which are already over-full. Reusing and recycling is the responsible choice, and it also happens to be profitable for all involved.
We have recently added a roll off container operation to our business. This makes it even easier to take advantage of our services at We Buy Scrap. Our bonded and insured drivers can deliver a container to your job site for one time use or on a permanent basis. This is a great way for factories to keep their scrap organized. If you are working on a home remodel, contract for a container to help stay organized and to convert that scrap into profit. Roll off container service makes it easier to recycle than ever before.
At We Buy Scrap we are proud of our efforts to clean up Arizona and to do our part to reduce the carbon footprint. We invite you to join us and make some money in the process.