Recycle Scrap Copper For Profit
The price of precious metals has been steadily rising over the past few decades. As the price of copper rises, scrap copper becomes more valuable. This had led many individuals to collect and sell scrap copper. If you wish to make a profit through copper recycling, there are a few basic rules and steps to follow.
The first step is to find out where you can recycle copper in a way that is fast, so as to have it remain profitable. One of the fastest ways to acquire copper scrap is to remove it from wiring. While copper wiring provides many different grades of copper scrap, most scrap yards will only divide it into high or low quality. High quality copper scrap will come from wiring that is used in machines and low quality scrap copper will be located in wires such as those used for Christmas lights.
Selling Your Scrap Copper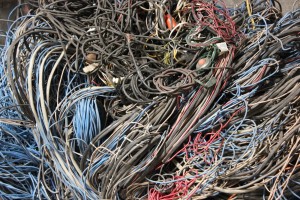 The main trick, once you have acquired your recycle copper, is to sale it directly to the scrap yard of your choice and avoid any middle-men. This will gain you the best price for your copper scrap. Many scrap yards specialize in copper recycling and will have methods that they want you to follow. For instance, some yards will want you to strip copper scrap from wires, while others will engage in copper recycling with wires that are not stripped. Learn the rules of your local yard and you will earn far more money for your scrap copper. You will also want to find the yard that is closest to your home and be certain to compare the prices that the different yards offer for scrap copper.
Where To Find Copper For Recycling
There are many other items from which you can recycle copper. Copper recycling can be found in nearly every appliance in the home. At the very least, recycle copper can be found in the power cords that are connected to these items. Coffee machines are particularly easy to come by, and they contain copper scrap in both the machine and the wiring. You can also recycle copper from small engines such as those found in lawnmowers and weed whackers.
Of course, as copper recycling becomes more popular, items that contain scrap copper are becoming more difficult to find. A great place to hunt for items from which you can recycle copper is Craigslist. Many people will offer broken machines and items that do not work in the free section. This section of the popular online site can be a treasure chest to the copper recycling enthusiast. Recycle centers that offer re-use rooms are also a great place to find scrap copper. Many people leave items in these rooms without knowing the full value of the copper scrap that is inside. Check with the people who run the room before you begin cutting cords and rendering items useless. Copper recycling is a great way to earn some extra income. Many people have begun to recycle copper as a second source of income.
To learn more about getting paid for your copper scrap and rules for selling scrap copper in Arizona, call We Buy Scrap in Phoenix or Tempe. We are a copper scrap metal recycling company who specialize in buying and recycling all types of metal.