Determining The Worth Of Scrap Brass
If you are new to the scrapping industry, then you will know that there is value in all kinds of precious metals including scrap brass.  Brass scrap varies in value depending upon factors such as the color and grade.  However, brass scrap metal can also vary in value depending upon where you live as well as current demand, so it is very important to look at current rates when you are starting out in brass recycling.  Usually prices may fluctuate between less than $.50 and $2.50 a pound.
Red brass solids are usually worth more than yellow brass.  You can also recycle brass radiators, which are worth roughly the same as yellow brass when they are clean but less when they are dirty.  In most cases, scrap brass is worth more than many other metals including stainless steel and some forms of aluminum.  However, it may not be worth as much per pound as many forms of copper, but it depends on what type of copper you want to recycle.
Different Grades Of Brass Scrap
Considering the grades brass scrap can give you a good idea of what it is worth.  For instance, there is mixed brass and bronze scrap with a purity of about 95% can be worth hundreds of dollars per metric ton.  However, refinery brass scrap may only be measured in dollars per pound as it contains a composite of a minimum of 61.3% copper and a maximum of 5% iron along with a mixture of brass, bronze and copper alloyed metal.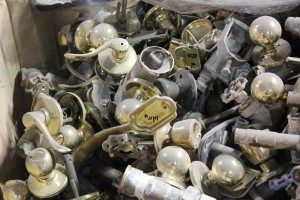 As previous mentioned, red brass solids tend to be worth more than yellow brass as they are mostly copper with lead, tin and/or zinc alloys.  These scraps usually come from machinery bearings, valves and other solids that make up the combination of copper and alloys.  Furthermore, there are also red brass turnings that come from borings, grindings and turnings, which are a different grade from the scrap brass from the machinery bearings.  These are also different from other grades such as scrap C metal and scrap C & F metals that are a mixture of yellow and red brass.
How To Get More Money Recycling Brass
Of course, there are other grades with only old yellow brass that includes casting, tubing, rod and sheet like plated materials.  However, this grade does not have a mix of aluminum bronze or manganese bronze.  New brass clips scraps are unleaded yellow brass clippings.  There are also yellow brass turnings that consist of borings, grindings and turnings.  Brass wire also has different grades such as clean brass wire that has no aluminum or other foreign materials and insulated brass wire that is plastic insulated brass wire.
No matter what grade of brass scrap metal you have, it is always more valuable in volume.  The higher the brass content, the more the scrap is worth.  Still, large volumes of other grades of brass recycling can add up and provide you with a tidy profit.  However, it is important to know the market in your location and the current demand in order to get the best price.
We Buy Scrap is a brass recycling company in Arizona. Call us for a free price estimate or bring in your scrap brass for recycling and we'll pay you top dollar to recycle your brass metal.