Scottsdale AZ Metal Recycling Services
Metal recycling in Scottsdale, AZ is more complicated than melting down scrap and building it back up. If you are a Scottsdale business that requires large quantities of iron, steel, copper, aluminum, or brass, you need an Arizona recycling service that can help your business thrive.
Arizona Aluminum Recycling Requirements
Since the aluminum recycling process only requires about five percent of the energy needed to create new sheets of the material, re-using your scrap aluminum is one of the most energy efficient processes. Nearly one in three sheets of aluminum produced in the United States are made from scrap, since drilling it out of bauxite deposits is an intensive process.
Recycled Steel Material in Scottsdale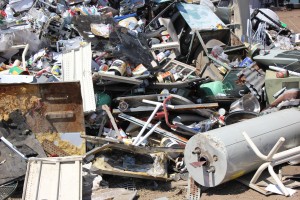 Few materials in the entire world are recycled more than steel. Whether your company produces containers, cars, or appliances, there is sure to be scrap before and after the manufacturing process. Nearly one hundred percent of the steel used in construction and car manufacturing is from previously recycled material. The history of recycling steel dates back over one hundred and fifty years due to the economic advantages of re-using the material. Steel does not lose any of its properties during a steel recycling process and requires very little energy in comparison to refining iron ore.
The Third Most Recycled Metal is Copper
It is possible to recycle every ounce of copper without a loss in quality or quantity and Scottsdale copper recycling is the third-most recycled metal after iron and aluminum. It is believed that four out of five pieces of copper that have ever been used are still in circulation today because it is so easy to break it down and re-forge it into a new piece. Since there are over six hundred pounds of copper in the United States per person, there is a huge amount that is recycled and re-used each day.
Brass Recycling in Arizona
Brass is a combination of copper and zinc that can be recycled without losing its strength and durability. Since brass has very low friction, it is necessary to be kept intact in order to prevent the friction that leads to heat and fire. Recycling brass, whether it is spent bullet casings or door knobs, helps keep the metal in circulation.
Scottsdale Arizona Iron Recycling
Many people ask if iron can be recycled when it is rusted. What few people realize, however, is that nearly all the iron that is recycled will rust when it is stored in a junkyard or foundry. Any iron can be melted down and re-forged, even if it is no longer usable.
Choosing Scottsdale Stainless Steel Recycling Company
Sinks or fixtures that are made of stainless steel can be recycled without losing their strength. Whether it is forks and knives or entire bathtubs, they can all be melted down.
If you are looking for the best metal recycling prices in Scottsdale AZ, choose We Buy Scrap and ensure that your waste metal is getting the best possible value.