Scrap Metal Recycling In Phoenix, Arizona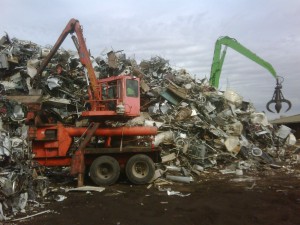 Do you have scrap metal that you are looking to get out of your home or commercial building? Then you may be interested to learn about a Phoenix metal recycling company called We Buy Scrap. They are in the business of purchasing any type of metal scrap from individuals and companies. This is great for the environment, because it keeps scrap metal out of the land fills. Facilities such as We Buy Scrap are becoming ever more popular, due to the increase of environmentally friendly habits around the country. Therefore, these companies are offering more services and making it easier to sell any type of scrap metal.
Where to Bring Your Scrap Metal in Phoenix
We Buy Scrap has three facilities around the Phoenix, Arizona area. Two of these are within Phoenix, and one is located in Tempe, AZ. Each of these is open seven days a week, though you will want to call to find out if they are open if you want to bring it on a holiday. They are all equipped to deal with various types and sizes of scrap metal deliveries. They also conveniently provide roll off services for those who would like to have their metal picked up on-site. All you would have to do is fill a container by their instructions, and the company will take care of the rest for you.
What Types of Recycled Scrap Metals
Although We Buy Scrap will take all types of scrap metals, you will be surprised to learn that they accept aluminum doors and wheels and other aluminum recycling pieces, brass recycling, copper recycling, iron recycling, lead, steel recycling and precious metals. They are looking for any obsolete scrap metal throughout the state of Arizona. So, if you have any of these, then you should stop on by one of the locations today.
Receive Valuable Tips on AZ Metal Recycling
If you are unsure at all on the best practices for recycling your scrap metal, it would be helpful to ask the professionals at We Buy Scrap. They are able and willing to give you tips that will make your trip to the facility easier. You should have everything in order and ready for them to take by the time that you arrive there. This company adheres to the Arizona metal recycling standards and regulations.
Who Should Use Phoenix Scrap Metal Recycling Services
People who work in businesses such as plumbing, electrical services and contracting would greatly benefit from metal recycling companies in Phoenix, AZ. However, anyone can bring their scrap metal from their home, automobiles that they have salvaged, or from various other sources. For more information, check out their website or call the number provided for metal recycling prices.
We Buy Scrap is Arizona's top metal recycling yard in Phoenix, AZ. Come in to today with your scrap metal and receive cash for unwanted metals.