Metal Recycling Yard Mesa, AZ
If you look around, you are likely to see a few items that are either fully or partially made of metal, for example, refrigerators, cooking pots, cars, bicycles, washing machines, just to mention a few. There will come a time when each of these items will no longer be functional because really, nothing lasts forever. What most people do when this happens is dump the said items in landfills; this is not only wasteful but harmful to the environment, as well.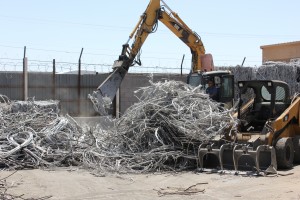 A much better option would be to sell these items as scrap metal for recycling. Metal recycling in Mesa, AZ is a practice that has been around for quite a while. The aim here is to melt down what the average person might consider useless and use it to manufacture new products. The more scrap metal that is recycled the better it is for the environment because, in addition to reducing the size of landfills, it also reduces the need to extract various metal ores from the earth — an activity that usually leaves a significant carbon footprint.
If you reside in Mesa, Arizona then that's a great thing because at We Buy Scrap, we do just that. The great thing is that you don't have to own whole old cars, appliances etc in order to do business with us. There are many other metallic items that you can sell to us as scrap, for example, old pipes, doors and windows, vehicle rims among others.
Recycling Steel Center in Mesa, Arizona
Mesa steel recycling is very important because steel is a vital component in the construction and manufacturing industries. There is no need to engage in very demanding steel production processes while so much of it exists out there. In fact, there is enough of it in the form of scrap to fulfill the country's needs for the next few years.
Various Metals For Arizona Recycling
Iron recycling, aluminum recycling and copper recycling Mesa AZ are all great ways in which people in various professions can make money. A few examples of such include plumbers, electricians and mechanics. The reason for this is that the said group of individuals can easily find various metals in their day to day operations. Plumbers, for example, can collect metallic pipes every other day as they go around fixing various plumbing installations.
At We Buy Scrap, our goal is simple: to ensure that the residents of Mesa, AZ can contribute to saving the environment as well as make some extra cash through metal recycling. Our prices are very fair and, therefore, you will not end up feeling shortchanged. The scrap metal industry is worth billions of dollars with millions of tons being exported out of the country every year.
Get in touch with We Buy Scrap in Mesa, AZ today to help answer any questions you might have on how our metal recycling works.